A Comprehensive Guide for First-Time Travellers to Bangkok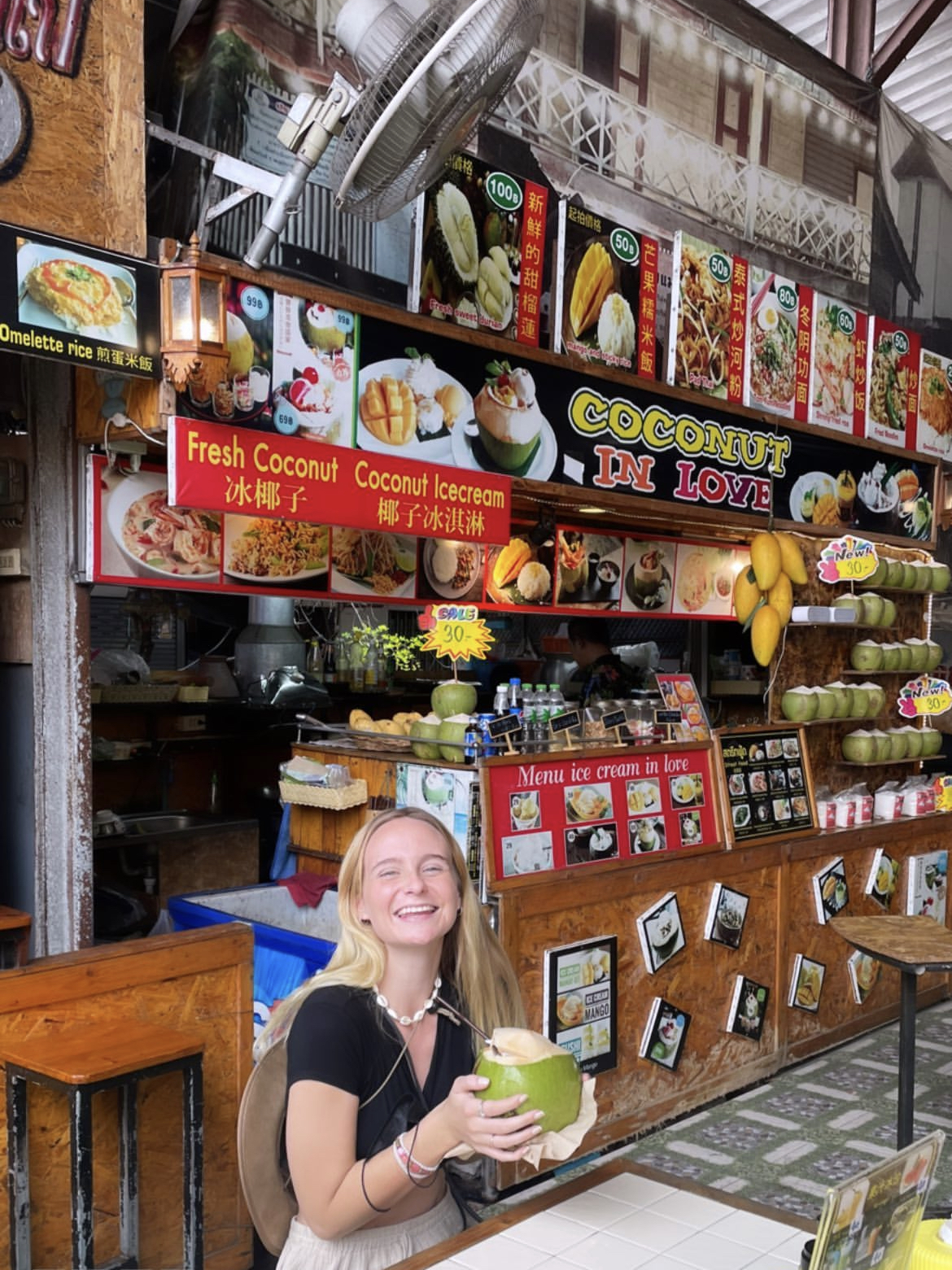 Welcome to the captivating city of Bangkok, Thailand's vibrant capital that seamlessly blends tradition and modernity. As a first-time traveler, get ready for an unforgettable adventure filled with rich culture, magnificent temples, mouthwatering cuisine, bustling markets, lush parks, and so much more. Traveling to Thailand? Don't forget to download our complete guide to Bangkok and Northern Thailand! An absolute must when planning your next travel adventure.This comprehensive blog will ensure you make the most of your trip to Bangkok, from exploring iconic landmarks to immersing yourself in the local way of life.
Indulge in Bangkok's Street Food Delights: Embark on a culinary adventure through Bangkok's vibrant street food scene. Dive into the bustling markets of Chinatown's Yaowarat Road and experience the flavours of Thai cuisine. Sample iconic dishes like Pad Thai, Tom Yum Goong, and Green Curry. Don't miss the mouthwatering street food stalls of Sukhumvit Soi 38, where you can try a variety of local delicacies.
Experience the Enchanting Floating Markets: Immerse yourself in the unique charm of Bangkok's floating markets. Visit the bustling Damnoen Saduak and explore the vibrant waterways filled with colorful boats selling fresh fruits, vegetables, and local crafts. Discover the Amphawa Floating Market, known for its evening atmosphere and delicious seafood offerings. Capture the essence of traditional Thai life as you navigate these lively markets by boat.
Unwind in Bangkok's Lush Parks and Gardens: Escape the city's hustle and bustle by visiting Bangkok's tranquil green spaces. Enjoy a peaceful stroll or picnic at Lumpini Park, Bangkok's central oasis. Explore the beautiful gardens and historical structures of the Ancient City (Muang Boran). Discover the Benjasiri Park with its iconic sculpture and relax in its serene surroundings.
Shop 'til You Drop in Bangkok's Markets: Get ready for a shopping extravaganza in Bangkok's diverse markets. Explore the vast Chatuchak Weekend Market, with its maze of stalls offering clothing, accessories, home decor, and more. Wander through the vibrant Pratunam Market, known for its affordable fashion and accessories. Experience the bustling atmosphere of the Rot Fai Market (Train Market) where you can find vintage items, antiques, and unique souvenirs.
Immerse Yourself in Bangkok's Nightlife: Experience Bangkok's vibrant nightlife scene, offering something for everyone. Enjoy panoramic city views from rooftop bars like Sky Bar at Lebua State Tower and Vertigo at Banyan Tree Hotel. Explore the lively Khao San Road, a hub for backpackers, with its street food, live music, and vibrant nightlife venues. Discover the trendy clubs and bars in Thonglor and Ekkamai areas for a night of fun and entertainment.
Explore Bangkok's Chao Phraya River: Embark on a scenic river cruise along the Chao Phraya River, often called the "River of Kings." Admire the city's skyline and pass by iconic landmarks such as Wat Arun and Wat Phra Kaew. Visit the Asiatique The Riverfront, a vibrant shopping and entertainment complex located along the riverbank, offering a mix of boutiques, restaurants, and live performances.
Immerse Yourself in Art and Culture: Discover Bangkok's thriving art scene by visiting its museums and galleries. Explore the innovative exhibits at the Bangkok Art and Culture Centre. Admire contemporary art at the Museum of Contemporary Art (MOCA) or the Bangkok National Museum, showcasing Thailand's rich cultural heritage. Visit the Jim Thompson House, a museum highlighting traditional Thai architecture and art.
Find Comfortable Accommodations in Bangkok: Choose from a wide range of accommodations to suit your preferences and budget. Experience luxury at hotels like The Peninsula Bangkok or the Mandarin Oriental. Stay in the vibrant Sukhumvit area with options like the Marriott Marquis Queen's Park or the Hilton Sukhumvit Bangkok. If you're a budget traveler, explore affordable guesthouses and hostels in the Khao San Road area.
Getting Around Bangkok: Navigate Bangkok easily with its efficient public transportation system. Take the BTS Skytrain or the MRT subway to access major attractions and shopping districts. Tuk-tuks and taxis are convenient for short trips, while boat taxis and river ferries provide a unique way to explore the riverside areas and reach attractions like Wat Arun.
Bangkok welcomes first-time travelers with open arms, offering a mesmerizing blend of history, culture, and modernity. From awe-inspiring temples to tantalizing street food, bustling markets to serene parks, this vibrant city has something for everyone. Prepare for an extraordinary journey through the wonders of Bangkok, where every corner reveals a new adventure and unforgettable memories await. Don't forget to download our complete guide to Bangkok and Northern Thailand! An absolute must when planning your next travel adventure.