Delivery day of new kitchen appliances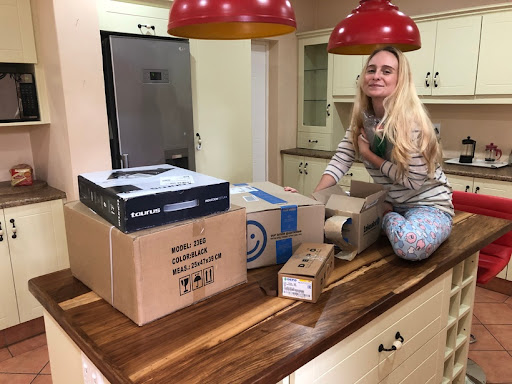 The prices for everything we bought for the exterior rebuild are as follows;
Scammed tail lamp = R500
Isuzu tail lamp = R140
7 pin plug = R250
After the rebuild was done, the paint had eventually dried- FIVE days of painting and THREE coats of paint. It was finally time to start filling our new home with needed appliances, houseware, and decor.
Everything we inherited houseware, decor, and appliances:
All cutlery and kitchen utensils
A 2kVa UPS with a 2-hour uptime
Bedding (used to be ours when we had a house)
Camp chairs (also used to be ours)
WiFi router (also used to be ours)
Bath & beach towels (also used to be ours)
Surround sound speaker
20m ethernet cable
Fairy lights
Extension cables
Pillows
2 x fluffy blankets
1 x decorative throw
Picnic blanket
1 x large pan
Cutting board
Coffee plunger
Braai tongs
Braai grid
Skottle and gas
Camping table
Board games
Logic portable heater
Plastic storage container for winter clothes
Toolbox
Yoga mat
A few random things that we also had to get:
Fire extinguisher refill = R50
Alarm = R125
COR & license = R400
Side mirror extenders for our car (SPCA) = R100
The entire process, from buying Stan to hitting the road took us 9 weeks from start to finish. Why so quick? Well, Josh's parents sold the house and we had to be out of there by mid-March 2021. It was a crazy few weeks! We were constantly busy and were trying to balance our day jobs with the van build and mapping out a route to travel. Everything we got in those first few weeks has done us well over the past 8 months of living full-time on the road.
So.... what did it cost us to get Stan on the road?
The total of all the expenses adds up to R27 276.00. We made it under budget which was great!
I hope this has been informative for you. We have shared a blog detailing what we spent on our van build - click here.
Explore South Africa like a local insider with our meticulously crafted digital map! If you've enjoyed our blog's hidden gems, stunning hotels, secret campsites, breathtaking waterfalls, thrilling hikes, and delectable restaurants, you'll love having all these treasures at your fingertips. This map is your key to unlocking the best South Africa has to offer. Get ready to embark on your own unforgettable journey - grab our map and make your South African adventures even more extraordinary!